President Uhuru Kenyatta./PSCU
Buy Kenyan, build Kenya, this was President Uhuru Kenyatta's call to action during his address to the nation during this year's Labour Day.
The President, who donned a zebra print shirt, asked Kenyans to focus on building Kenya post the coronavirus pandemic.
"Play our Kenyan history, Kenyan music, Kenyan soap operas, Kenyan everything. If media plays Kenyan content, Kenyan content will build media after coronavirus," he added.President Uhuru Kenyatta./PSCU
The Head of State also said the manufacturing sector can also be saved if we all start buying Kenyan to build Kenya.
Uhuru has led from the front in the 'buy Kenya build Kenya' initiative. The President himself has been on the front line to ensure that he does what he preaches.President Uhuru Kenyatta./PSCU
During his press briefings since last year, the president has been wearing shirts that are made locally.
His attention-stealing shirts have caught the collective eye of Kenyans and the internet.President Uhuru Kenyatta./PSCU
The eye-catching shirts have made people talk and admire them with others asking where they can get similar shirts and at what cost.
All the shirts are designed and made by Rivatex East Africa Limited, a textile factory based in Eldoret.
Shirts similar to those worn by Uhuru cost Sh2,000 and above, according to Rivatex.President Uhuru Kenyatta./PSCU
The company said they are grateful that the President supports their work.
"Hope is inspired by what and how we dress. President Uhuru Kenyatta is our number one supporter of our fabrics," they tweeted.
Rivatex also noted that they have the African print shirts in their shops located across the country.
In Nairobi, they are situated along Biashara street in the CBD.
"We will get to the end of this challenging period, we will overcome this pandemic, we will return to our workplaces and see our friends and family members who we miss, we will return to the precious work of building our nation for our children," President Uhuru Kenyatta.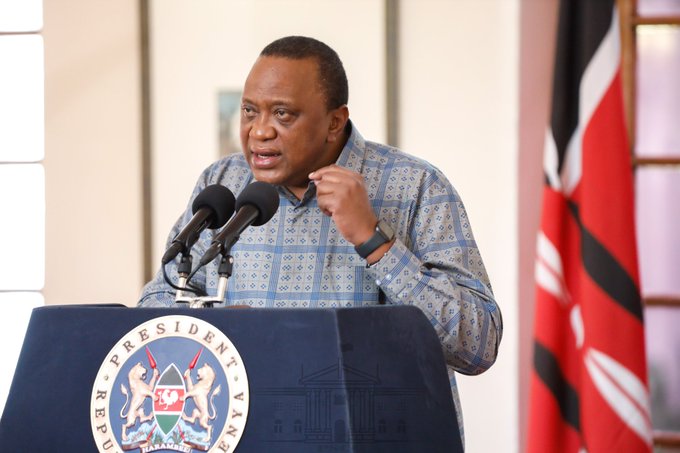 The President is our firm supporter and marketer of our local apparels. He is keen on revamping our economy even during this COVID 19 period.
Uhuru used the same mantra in 2017 when he pitched the 'Buy Kenya, build Kenya' mantra to create jobs for the youth.
He said this when he visited a grand sale to export quality cheap branded new clothes at the Kenyatta International Convention Centre in Nairobi.
The "First Ever Super Sale" is an initiative by the Ministry of Industry in partnership with Textiles and Apparel companies at the Export Processing Zones both in Nairobi and Mombasa.
It features companies that export for some of the biggest brands in the world, including Hela clothing that opened the first intimate clothing production line in Kenya and has exported for brands such as Victoria Secret and Calvin Klein