One year ago, a mysterious illness emerged in Wuhan, China, marking the start of the coronavirus pandemic that has now killed more than 1.25 million people around the world and infected tens of millions more.
In March, the South China Morning Post published an article based on Chinese government data that showed the first known case of COVID-19 can be traced back to November 17, 2019—possibly a 55-year-old individual from Hubei province, although "patient zero" has yet to be confirmed.
Chinese authorities did not officially identify the first case of the new disease until December 8, 2019.
Over the weeks that followed, medical staff in Wuhan treated dozens of patients suffering from pneumonia of unknown cause. The patients were treated for a range of unexplained symptoms including high fever, coughing, and respiratory problems.
A mysterious pneumonia of unknown cause
Among these individuals were an elderly couple who sought treatment at Hubei Provincial Hospital of Integrated Chinese and Western Medicine on December 26. A doctor at the hospital who attended to the couple, Zhang Jixian, later told Chinese state-run news agency Xinhua in April that the illness "looked like flu or common pneumonia."
But CT scan images revealed lung abnormalities that were not characteristic of either of these diseases.
Zhang had worked as a medical expert during the SARS outbreak that originated in China in 2003, which went on to kill more than 800 people around the world. Given her experience with this epidemic—caused by a pathogen in the coronavirus family—she was attuned to the possibility that the elderly couple's illnesses could represent a new infectious disease.
Once the doctor had seen the couple's CT scans, she requested that their son be examined as well.
"At first their son refused to be examined. He showed no symptoms or discomfort, and believed we were trying to cheat money out of him," Zhang told state news agency Xinhua at the time.
Eventually, the son agreed to be examined, with his CT scans showing that he had the same lung abnormalities that were detected in his parents. "It is unlikely that all three members of a family caught the same disease at the same time unless it is an infectious disease," Zhang said.
On December 27, another patient arrived at the hospital suffering from a fever and cough who also turned out to have the same lung abnormalities as the three family members. Blood tests of this fourth patient and the family revealed that they were suffering from viral infections, although the exact cause of their symptoms was unclear, with influenza tests producing a negative result.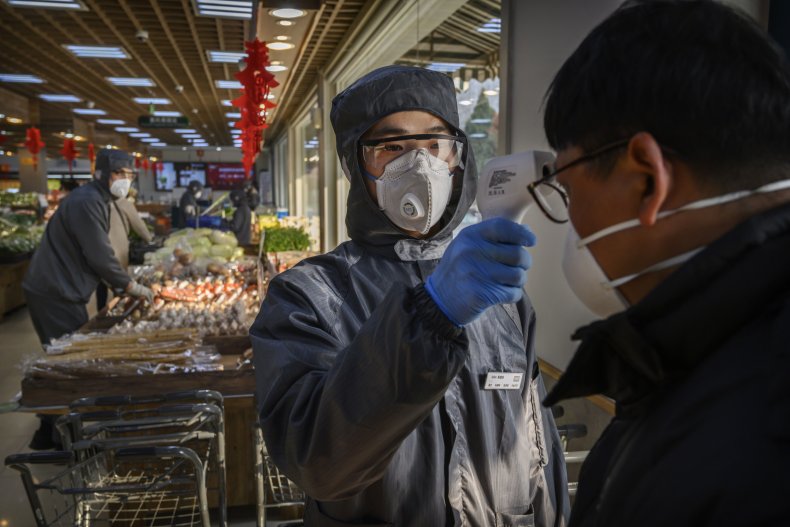 A new disease emerges
Zhang subsequently submitted a report to officials at the hospital reporting the discovery of a new "viral disease." At this point, it was still not clear whether or not the illness could be transmitted between people, but the doctor speculated it was "probably infectious."
Becoming increasingly concerned, Zhang placed the four patients in a provisional quarantine area in the hospital and ordered medical staff to wear personal protective equipment.
On December 29, three more patients arrived presenting with similar lung abnormalities, prompting the hospital to launch an internal investigation headed by a panel of experts, Chinese newspaper the Workers' Daily reported in February.
All of these patients were found to have been exposed to the Huanan Seafood Wholesale Market in Wuhan—as did the fourth patient to arrive at Hubei Provincial Hospital with the mystery illness.
Hubei Provincial Hospital's internal investigation found that the unknown pneumonia cases were unusual and warranted further investigation, with medical staff reporting the situation to local health authorities on December 29.
This prompted a field investigation by the Wuhan Center for Disease Control and Prevention (CDC.) The investigation was aimed at uncovering more patients with pneumonia with potential links to the market.
On the same day, six of the seven patients with the new disease at Hubei Provincial were transferred to another medical center—the Wuhan Jinyintan Hospital—which specializes in the treatment of infectious diseases.
The Wuhan CDC search turned up several additional cases and on December 30, health authorities from Hubei province reported the pneumonia cluster to the Chinese CDC. At this point, the Wuhan Municipal Health Commission sent out an alert, informing its affiliated institutions about how to respond to a possible outbreak of infectious pneumonia.
The outbreak is made public
On the last day of 2019, the commission released the first public messaging regarding the pandemic, briefing Wuhan residents about a viral pneumonia outbreak. It reported a total of 27 confirmed cases, seven of which were in critical condition. The early evidence of the outbreak had also been reported on ProMED—one of the largest publicly available emerging disease reporting systems in the world.
While there was still no evidence of human-to-human transmission and the cause of the pneumonia was yet to be determined, Wuhan authorities advised people to wear face masks and avoid crowded areas.
The public health announcement was reported by local and national media in China, and was later picked up by a handful of international news outlets. Meanwhile, rumors were circulating on Chinese social media that the outbreak could be linked to the SARS virus.
"The cause of the disease is not clear," the state-run People's Daily newspaper said in a post on Chinese social media site Weibo. "We cannot confirm it is what's being spread online, that it is SARS virus. Other severe pneumonia is more likely.
China sent experts to Wuhan to conduct an investigation, take samples from the patients who were suffering from the new disease and support the control effort. Authorities had so far isolated all the patients and their close contacts were also being supervised.
By January 2, 41 patients had been admitted to the hospital with the new disease, all of whom were relocated to the Jinyintan Hospital. Retrospective research conducted later in 2020 would find that the number of people infected by this point was significantly higher than this figure suggests.
Novel coronavirus identified
According to the Chinese CDC, initial laboratory tests from patients suffering from viral pneumonia were negative for 26 common respiratory pathogens. It was not until January 7 that Chinese scientists confirmed that a novel coronavirus, dubbed 2019-nCoV, was the cause of the mysterious pneumonia outbreak.
On January 24, a group of Chinese scientists published a report in The Lancet examining the 41 cases that had been admitted to hospital by January 2.
The paper—the first peer-reviewed, publicly available scientific study on the outbreak—found that 27 of these patients had been exposed to the Huanan seafood market, which had been shut down by Chinese authorities on January 1
Thirteen of these patients were admitted to an ICU and six died, indicating a high mortality rate at the time. The study also found that the symptom onset date of the first patient identified was December 1, 2019.
The researchers admitted that there were still "major gaps" in their knowledge of the virus—including where it originated.
Frederick Hayden, an infectious disease specialist and an emeritus professor at the University of Virginia, who co-authored a Lancet editorial accompanying the Chinese study, told Newsweek that he first heard about the new illness when he spotted the ProMED Posting on December 30, 2019.
He quickly sent off emails to colleagues in China—including one of his previous collaborators, Bin Cao, at the China-Japan Friendship Hospital in Beijing—to try and get more information.
"Obviously, I was concerned. I didn't know if it was possibly another SARS event, or a novel virus. In the very beginning, there were statements that it wasn't being transmitted from person to person. Of course, that was subsequently proven to be completely inaccurate. Based on discussions with Cao Bin early in January, it was clear that there was human transmissibility and that it could cause very severe disease. They were taking care of critically ill patients at the time."
Shangxin Yang, a microbiologist from UCLA Health, who has colleagues, family and friends near the coronavirus' epicenter in Wuhan, told Newsweek he had started hearing rumors in late December on Chinese social media that SARS had reappeared in the country. A Beijing-based health care company claimed it had detected the SARS virus in the analysis of a sample taken from a Wuhan patient who was actually infected with the novel coronavirus.
The detection of SARS, which was shared on social media by doctors, later turned out to be incorrect, with the company mistaking the novel coronavirus for SARS due to its very close genetic similarity.
"Obviously, it was very questionable at the time—a lot of people were sceptical because SARS had disappeared for more than 10 years, since 2003," Yang said. "A reappearance of SARS would definitely be something shocking."
Yang didn't take the rumors of a new SARS outbreak very seriously until the end of the year when he saw an image posted on Chinese social media showing a notice from Wuhan authorities in a local hospital alerting medical staff of the emerging pneumonia outbreak.
"I saw that and thought, 'that looks really real,' and I remember jumping out of bed. On one hand, you have a company who's using genetic sequencing to report this as SARS and on the other hand, you have authorities putting out this notice to all hospitals in Wuhan asking them to report any cases like that directly to local public health officials.
"It's then I realized it was a true outbreak. Whether it was a reemergence of SARS or a novel virus, at that time, I wasn't entirely sure, but I realized it's for real."
Outbreak spreads around the world
Over the course of January, international media took an increasing interest in the growing coronavirus outbreak as the virus spread around the world.
On January 12, China publicly shared the genetic sequence of the novel coronavirus. And just a day later, officials in Thailand confirmed a case of COVID-19—the first outside China itself.
By January 20, the virus had spread all around China and to a handful of other countries including Japan, Thailand, South Korea and the United States, as governments scrambled to respond to the outbreak.
Chinese authorities locked down Wuhan—a city of 11 million people—on January 23 as panic and confusion spread. COVID-19 cases were reported in Singapore and Vietnam for the first time, with the total confirmed global figure soaring past 500. At least 17 people had died from the new disease at this point.
The world watched on as China began building an emergency hospital in Wuhan—which was completed in just 10 days—while images emerged of officials in personal protective equipment checked the temperatures of residents in Chinese cities.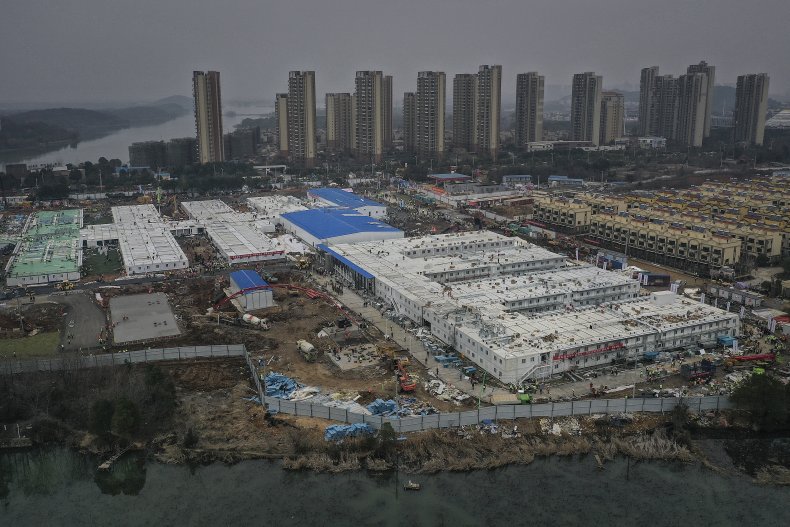 By January 28, a delegation from the World Health Organization led by its Director-General Tedros Adhanom Ghebreyesus arrived in China to meet with the country's leadership and learn about the response of the authorities, as well as provide assistance.
Just two days later, with thousands of new cases confirmed in China, the WHO declared a "public health emergency of international concern" as the U.S. government warned Americans not to travel to China, and urged those in the country leave. Later in the year, on March 11—with the virus now confirmed on every continent except Antarctica—the WHO declared that the COVID-19 outbreak was now a pandemic.
Long before the COVID-19 outbreak started, experts had been warning of the risks of a deadly global pandemic. In September 2019, shortly before the novel coronavirus emerged, a team of international scientists said in a report that efforts to prepare for such an event were "grossly insufficient." A year on, and lessons have been learned the hard way, with the future trajectory of the pandemic still far from certain.