Bobi Wine meets his lawyer over 300M Tax on his Armoured car.
---
National Unity Platform strongman Robert Kyagulanyi aka Bobi Wine is slated to meet with his lawyers for a way forward over a new tax that was imposed by the Uganda Revenue Authority -URA on his armored ride Toyota land cruiser.
This comes after he trashed a 300 million extra tax to clear his armoured ride and instead accused the URA of persecution.
Bobi wine is yet to indicate whether he will challenge the latest tax assessment of the vehicle.
Wine's legal counsel Anthony Wameli declined to give us a position on the way forward until they have met with his client today.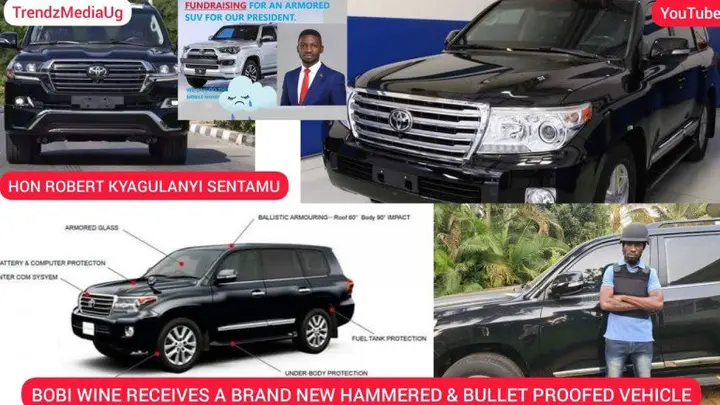 He however says they wrote to URA and they replied demanding for the tax with no clear explanation.
He also notes that should they fail to agree with the URA ,then they may have to contest the decision in the tax tribunal
"Am not in position to make any public statement until we can chart a way forward, what i can confirm is we wrote to URA and it forced them to reply to us in that way and so we are preparing to address the letter accordingly,definately we will have to go to the Tax access tribunal.he stated
URA had revalued the car at USD 166,700 ( 601 million Shillings) after revising the tax payable on it to more than 300 million
Previously,he pompous ride was valued at about 158 million Shillings, and sources say a tax of 88 million Shillings was assessed, paid, and the car released.
However in a fresh communication, the URA wrote to Bobi wine explaining that his armoured land cruiser was cleared in error, as an ordinary car, that led hin to pay less tax than was due.
The letter addressed by the URA's commissioner  Abel Kagumire,the declarations made on February 12 misled the authority into clearing it as an ordinary car.
The letter adds that the declaration bore "falsehoods of clearing it as a normal vehicle yet it was armored contrary to Sections 203 of the East African Community Customs Management Act. 2004.
The URA states that and upon establishing that the unit was armoured, the NUP leader is now required to pay up to 337,698,776.25 in tax.
However ,in his response,Wine insists that he played his part and the ride was complied with all legal and tax requirements.
"The vehicle was taken to the Directorate of Interpol in Kololo and they cleared it. It was then taken to the forensics department of police in Naguru, and they too cleared it. Then we took it to URA and they did their own independent verification and levied the relevant tax which we paid," he says in a statement.
The Toyota Land Cruiser was imported into the country in November last year from Kenya and cleared in January, according to URA
---
Trending Now