Bobi Wine releases new hit song as he returns to music
---
Uganda's Politician and musician Robert Kyangulanyi alias Bobi Wine has finally taken his mind off politics and decided to return to his former hustle – music.
This comes after few months of being defeated in Ugandan Presidential Election by the incumbent Yoweri Museveni. Museveni has since been been sworn in for his sixth term in office last week, in a private ceremony attended by few head of states.
While sharing the news, the Ugandan singer revealed that the song was produced by Sir Dan Magic before he was arrested by the Ugandan police and taken as a political prisoner. The song is called Katengo.
"Today, I will release this song in his honour and in honour of all the fearless young people who continue to languish in prison for no reason," an emotional Bobi Wine said.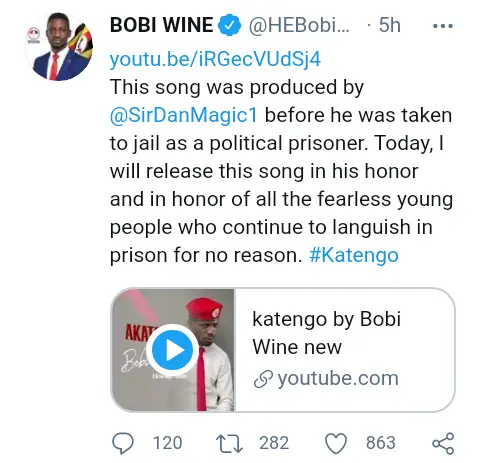 The new song, which was released in a feel-good Baganda with a sprinkle of English, can make you start to tapping your fingers in dance mood. After listening, I caught myself singing to the lyrics in joy yet I understood Zero to No Baganda language!
This new song comes at a time when many Bobi Wine's supporters have been arrested by the Museveni regime and thrown into prisons for the crime of just exercising their Democratic Rights.
However, this new hit song by the liberation leader Robert Kyangulanyi, whom many have sworn to be their recognized President, will make the political prisoners to understand that all hopes is not lost. The revolution of Uganda will arise soon.
---
Trending Now