Jose Mourinho sacked by Tottenham Hotspur
---
José Mourinho replaced Mauricio Pochettino as Tottenham manager in November 2019; Portuguese head coach led Spurs to sixth-place finish in the Premier League during first season in charge
Jose Mourinho has been sacked as head coach of Tottenham, less than a week before Sunday's Carabao Cup final against Manchester City.
Mourinho was called to a meeting with chairman Daniel Levy on Monday morning.
The club then confirmed Mourinho and his coaching staff Joao Sacramento, Nuno Santos, Carlos Lalin and Giovanni Cerra had all been "relieved of their duties", with Ryan Mason – just 29 – taking charge of training on Monday afternoon.
It is understood the decision was results-based and nothing to do with Spurs' agreement to join a European Super League. Levy said: "Jose and his coaching staff have been with us through some of our most challenging times as a club.
"Jose is a true professional who showed enormous resilience during the pandemic. On a personal level I have enjoyed working with him and regret that things have not worked out as we both had envisaged. He will always be welcome here and we should like to thank him and his coaching staff for their contribution."
Mourinho had been in charge at Spurs since November 2019, replacing Mauricio Pochettino, signing a deal until the end of the 2023 season.
In his first campaign, Mourinho took Tottenham from 14th in the Premier League to finish sixth – securing Europa League qualification – but were knocked out of the Champions League at the last-16 stage by RB Leipzig.
This is a limited version of the story so unfortunately, this content is not available.

Mourinho leaves Spurs seventh in the table, five points off the Champions League places.
The club crashed out of this season's Europa League at the last-16 stage following defeat to Dinamo Zagreb.
No Premier League club has dropped more points from winning positions this season than Mourinho's Spurs.
This is a limited version of the story so unfortunately this content is not available.
Spurs play Southampton on Wednesday, live on Sky Sports Premier League, before Sunday's trip to Wembley for the Carabao Cup final against Manchester City.
Mourinho has also been denied the chance of delivering a first piece of silverware to the club in 13 years.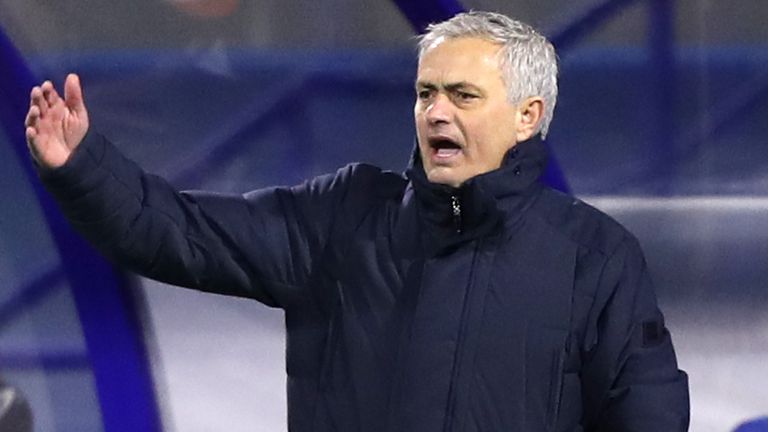 'Same coach, different players'
Mourinho had criticized his players in recent weeks, notably accusing stars of "hiding" in the defeat to Arsenal.
He said: "No intensity, no pressing. In terms of creating attacking football, some important players were hiding. In the second half we only had to improve which we did."
This is a limited version of the story so unfortunately this content is not available.
Asked after a draw against Newcastle about Tottenham's tendency to let points slip from winning positions, he gave the barbed reply: "Same coach, different players".
He told Sky Sports after the Newcastle game: "It was not a problem of fight, it was not a problem of attitude, the players wanted to win but I have to be honest and say I saw things on the pitch, not in terms of attitude but in terms of profile, vision, balance, which belongs to the top players, I didn't see in every position."
Mourinho had appeared to try and take a different tack before the departure was confirmed, shutting down questions from the media about his side's frailties.
Asked about their continuing tendency to drop points, Mourinho said: "That's what I'm not ready to discuss with you. I think it has to do with some of our qualities as a team, but I'm not ready to discuss with you."
When pressed on when he would be willing to discuss this matter, Mourinho said "maybe never".
Daniel Levy and Jose Mourinho rolled the dice with the Portuguese's appointment as Tottenham manager. Seventeen months on, the gamble has emphatically failed to pay off for either side, with the manager stunningly sacked on Monday morning.
The shock was not in his departure but in the timing of it, coming just days before the club's Carabao Cup final with Manchester City at Wembley.
After all, Mourinho was brought to the club to turn Tottenham into silverware winners – but with Spurs on course to finish outside of the top four for the second season in a row, criticised for the negativity of their football, and with uncertainty surrounding the futures of numerous key players, Levy dramatically pulled the plug on the project.
It is a strikingly swift move from the Spurs chairman, given the fact that in November 2019 he took the big decision to trade Spurs' historical style and panache for a more ruthless edge under Mourinho, a manager he'd been targeting for a long time. The objective was to turn Mauricio Pochettino's too-nice nearly-men into battle-ready winners.
But it was a calculated risk from Mourinho's side, too. After the damage caused by his Manchester United tenure, he staked his reputation rebuild on a Spurs squad he first described as "very, very good" – but knowing he would not have the transformative spending power he had previously had at former clubs.
At the end of it all, Levy is facing Spurs supporters rebelling over two fruitless campaigns, in which only fleeting moments of individual brilliance lit up a risk-adverse, anti-ambition approach to the game. Still no major silverware and now no flair.
Throw in the scornful reaction of the club's supporters to Spurs signing up for the European Super League and Levy's popularity has plummeted.
Mourinho, meanwhile, is stepping into an uncertain future, certainly in terms of the Premier League.
Which club will now be willing to pay his hefty wages on the back of the recent failures, the falling win percentage, and the litter of divisions and negativity he leaves in his wake?
Mourinho has fought bitterly to defend his reputation – but his status as a top-level modern-day coach is diminishing.
While the timing of Jose Mourinho's sacking by Tottenham is a surprise, his exit from the club was always on the cards, says Graeme Souness:
"I'm surprised, the timing is most unusual with a cup final on the horizon," said the Sky Sports pundit.
"Something has gone on to bring this all to a head, I don't think Jose would have been terribly happy with the way league form was going.
"To second guess what's happened, Jose is an experienced manager, and he has become so frustrated with the players. When you've tried everything, you end up having harsh words with them and falling out with them. News of unrest in the dressing room then gets back to the decision-makers at the club and then there is only one outcome, and that is for the manager to go."
Jamie Redknapp had insisted Mourinho had to take responsibility for a Tottenham side neither getting results nor, as he declared, good to watch.
Speaking after the recent 3-1 home defeat to Manchester United, Redknapp said: "What Jose has done in this period is make them a really tough watch. You can say what you like about Spurs over the last 40 years but they've always been a good football team; they've always had a style of play.
"If Spurs fans were in here, I don't think they'd enjoy that one bit. Too often I watch this Spurs side and there's no real flair, there's no excitement.
"I don't think this is a bad squad of players; I've said it before and I'll stand by it.
"This manager has chopped and changed at the back. To play football, you have to have a chemistry, a relationship with whoever you're playing alongside.
"Earlier in the season, he played with (Pierre-Emile) Hojbjerg and (Moussa) Sissoko in midfield; sometimes they'd go into a back six. It wasn't a great watch but at least you knew what they were trying to do. They were being defensive and getting results. Right now, they're trying to be defensive, they're not getting results, and they're incredibly tough to watch.
"The manager has to take responsibility. We talked in the past about a Jose masterclass; he loved it and celebrated it. If he doesn't think this is a good squad… well, a great manager would find a way to get his players organised.
"They're not playing great football, and they're losing matches. It's not just about the potential of Harry Kane leaving, it's the financial implications with the stadium, the assets, other players like Dele Alli, Harry Winks. Daniel Levy will not like the fact that his players are devaluing assets. He'll hate it."
Keane had backed Mourinho after the Manchester United defeat, insisting he did not have the sort of totemic defenders his sides had boasted in the past, and saying he thought his managerial record meant he deserved more time.
It followed criticism from Paul Pogba, who fell out with Mourinho during the pair's time at United.
"He's got a great record, he's come into this side to compete; finishing sixth or seventh is not what they've employed him for," said Keane.
"Jose has always has brilliant defenders, proper midfielders in terms of mindset. But Spurs aren't strong enough. They're not good enough to keep it tight behind Kane and Son.Graeme Souness questions the timing of Jose Mourinho's Tottenham departure and says the squad 'was not what he thought it was' when he opted to take charge
"If he still has this mindset of getting our noses in front, sit back and hold onto leads, this team defensively – and I'm including the goalkeeper – aren't good enough.
"These lads here are nowhere near as good enough defensively as what he's had at his previous clubs. Lack of leaders, lack of characters, not good enough defensively.
"It's a lot of things going into the mix and it's not an easy fix. But I think his CV warrants staying longer in the job."Win £250,000 on Wednesday! Do not miss your chance to land the £250,000 in Wednesday's Super 6 round. Play for free, entries by 6 pm.
---
Trending Now