Juba dominates squad as Football Association neglects rest of the states
---
South Sudan Football Association on Thursday afternoon released a 35-man squad to represent the country in the next International window break.
The squad is dominated by Juba-based players, as the football association chose to neglect the rest of the players playing in the States.
12 players come from local clubs, all based in the Capital, Juba, with the rest of the players coming in mostly from Uganda, Kenya, and outside countries.
Just after his illustrious transfer to Zesco United, Captain Maker Manyang leads the star-studded squad. Star Striker Tito Okello of Gor Mahia is also on the team alongside Stephen Pawaar of Munuki FC.
After the departure of former Coach Cyprian Besong due to his contract expiry, Simon James Yor will take charge of the team on a short-term deal until a suitable candidate for the job is found.
Simon James Yor knows the huge tasks that await in the wings, as the team hasn't collected a point in the last 4 games, losing all without reply.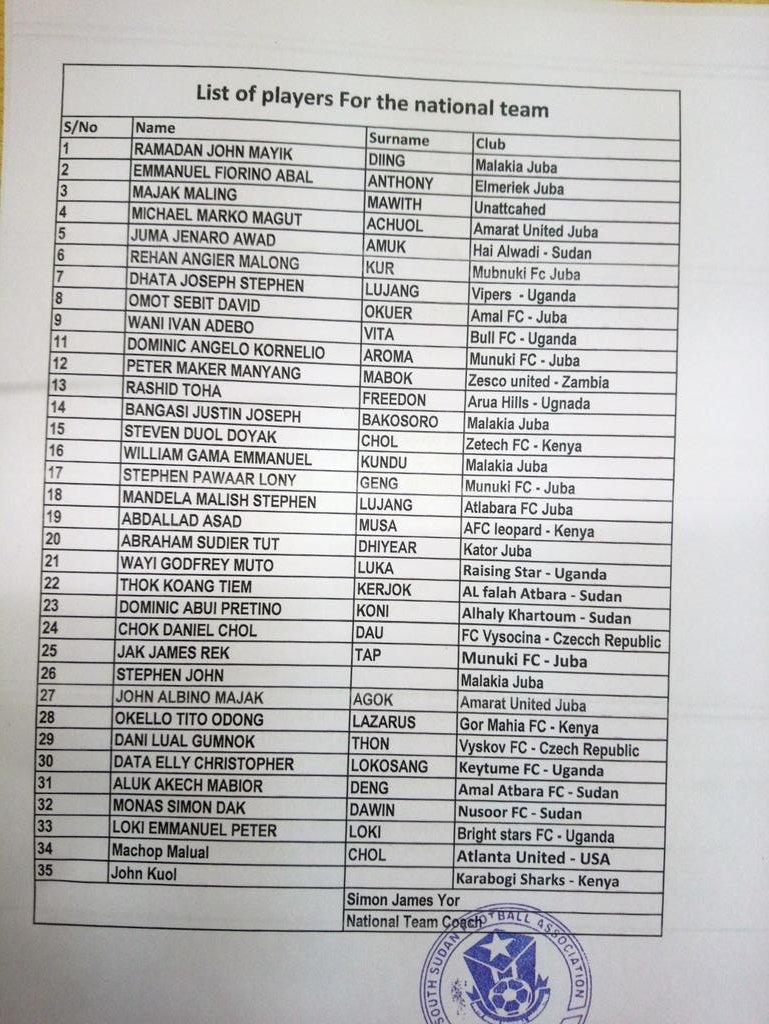 The team last scored a goal through Tito Okello on the 16th/11/2020 against Uganda in Nairobi, in what was their solitary win in the African Nations' qualifier.
Promising young players like Valentino Kuel, Kur Kur, Dwang Jackson all miss out of the squad.
The current squad will participate in a mini-tournament organized in Morocco between 6th and 12th, according to association's spokesperson.
Currently, only positive things are happening for the football association.
Juba football stadium is near completion after 3 years of construction work.
On Wednesday afternoon, Basketball president Luol Deng promised to cooperate with newly elected SSFA President Peter Maduot Parek as they aim to build sports in the country.
---
Trending Now