AFRICANEWSS 08 APR 2020
Confirmed cases in Kenya has reached 179 with seven new cases recorded from the last round of tests, a top official of the Health Ministry noted on Wednesday.
"In the last 24 hours, we have tested a total of 305 samples, out of which seven people have tested positive for the Coronavirus disease. All the seven are Kenyans, the Ministry noted. Four of them have travel history. Five of them are from Nairobi county.
In terms of contact tracing, authorities have a total of 2,004 persons under monitoring, out of which 1,426 have been discharged and 578 are currently on follow up. To date, authorities have managed to test 5,278 samples from individuals.
Meanwhile a recall of parliament scheduled for today was cancelled due to travel ban on movement into and out of the capital Nairobi. A measure ordered by President Uhuru Kenyatta earlier this week. Lower house Speaker Justin Muturi confirmed the decision to local media late Tuesday.
Nairobi and three countries in the coastal region have been identified as coronavirus hot spots. A key motivation for the restriction is to prevent the spread of the virus into other regions ahead of the Easter weekend.
Two widely-circulated newspapers Daily Nation and The Star have also reported that some lawmakers have tested positive for COVID-19. Already some MPs were under a mandatory quarantine after returning from international trips in early March.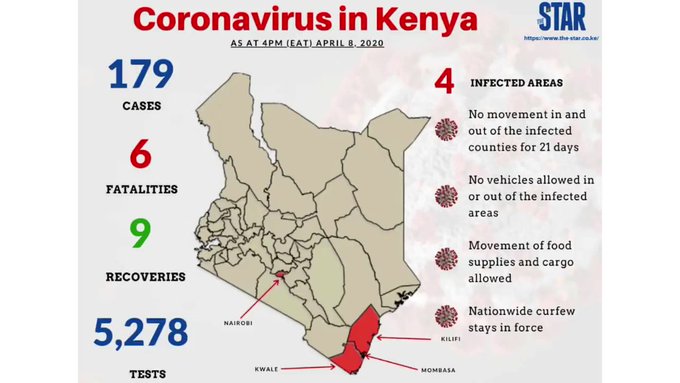 Kenya has started enforcing a set of rules for transport operators in the wake of efforts to contain the spread of COVID-19. Transport Minister James Macharia said on Sunday that flouters will face the law.
"From Monday April 6, 2020, any public transport vehicle found not observing the set directives, will have their Sacco licenses suspended and the vehicle bonded."
The set rules in question are a cut down on the number of passengers that a vehicle can carry as part of social distancing measures. Kenya is also stressing the need for people to wear their masks as frequently as possible.
Top official of the health ministry as of yesterday confirmed that local production of the masks was advanced adding that disbursements were to be done at the county level by organized groups.
"It is evident that COVID-19 will be spread more by actions of police than of those claimed to have contravened the curfew," Havi said.
For most people, the new coronavirus causes mild or moderate symptoms, such as fever and cough that clear up in two to three weeks. For some, especially older adults and people with existing health problems, it can cause more severe illness, including pneumonia, and death.
If Kenya goes further and imposes a lockdown, "there is bound to be violence," said James Shikwati, an economist. People in poor neighborhoods of cities like the capital, Nairobi, will need a way to access food, water and sanitation.
"It will mean for the first day, maybe, they stay indoors," he said. "Then the second day, when they are hungry, they will move out."