Kenya: Govt Warns Drivers Against Using South Sudan Highway
---
The Kenyan government has cautioned its drivers against using Juba-Yei highway following a fatal attack last week. Kenyan trucks were burnt and drivers killed in Juba-Yei highway, South Sudan.
In a statement to newsrooms, the Ministry of Foreign Affairs said that it would seek assurances from Juba, and advised drivers to avoid the road in the meantime.
"The Government of Kenya is concerned by the growing number of attacks against Kenyans and their interests in South Sudan," it said, referring to Yei-Juba highway, a major artery connecting South Sudan to its East African neighbors, Uganda and Kenya.
"Kenyans in distress across South Sudan are encouraged to urgently seek consular assistance from the embassy in Juba. The Ministry of Foreign Affairs is constantly reviewing the evolving situation and will provide periodic updates and advice on the security situation," the ministry added.
"The government is working closely with the Government of South Sudan to ensure that Kenyan interests are protected and that perpetrators of attacks against Kenyans are prosecuted to the fullest extent of the law."
The Kenya Transporters Association had earlier voiced their concerns on the clashes involving Kenyan trucks and drivers being murdered.
"We condemn in the strongest possible terms the killings of the innocent drivers, wounding of the passengers and setting ablaze the five trucks which occurred between (Ganji Lanya County),65KM to Juba and Kulipa, which is 58 KM to Juba on Yei-Juba Road in South Sudan," the organisation stated.
The Association advised its members to withdraw their services from South Sudan immediately until their security was assured.
"We wish to advise transporters not to use the Yei – Juba road as there is no guaranteed security by the authorities," the Association added.
Yei is a medium-sized city bordering Uganda and DRC, it is a business hub attracting traders from Kenya, Uganda, and DRC.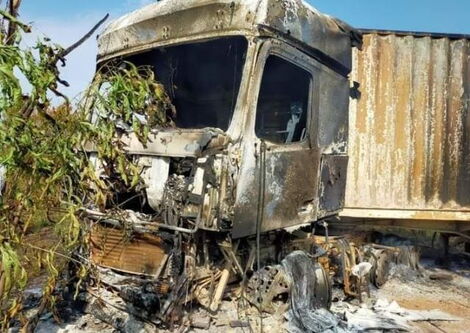 The highway is, however, notorious for ambushes and illegal roadblocks by some militia groups in South Sudan. 
In 2017, the United Nations set up a program- UNMISS (United Nations Mission in South Sudan) whose mandate was to protect civilians in the region.
Civilian staff were deployed to patrol the area and ensure safety. They aimed to increase peace-keeping presence along the road.
In September 2020, there was another attack that left two civilians dead and five others wounded. It was an ambush, with gunmen targeting civilians. The authorities called for an increased security presence in the area.
---
Trending Now