KENYANKE 19 MAR 2020
Tileh Pacbro is, by all accounts, one of the most notable figures on the dance and entertainment scene in Kenya.
The talented choreographer has made a name for himself with exciting, high-octane dance videos that often end up drawing international acclaim. In January 2020, for instance, pop superstar Justin Bieber shared a video of the crew dancing to his song 'Yummy', with the dance video racking up over a million views.
With the Coronavirus (Covid-19) pandemic sweeping across the world, Pacbro struck gold yet again with a dance video titled 'Coronavirus' which he first shared on Sunday, March 15.
Three days after being posted, the video had racked up hundreds of thousands of views from around the world, further catching the attention of international celebrities including rapper Cardi B who tweeted out the video. Kenyans.co.ke caught up with Tileh on Thursday, March 19 to talk about the Coronavirus dance, his crew, and dance in Kenya.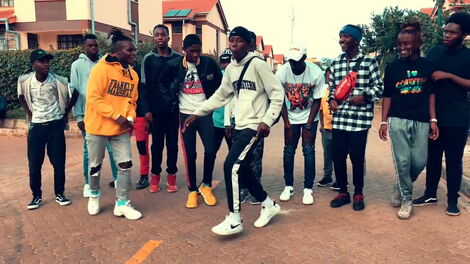 Tileh Pacbro (in yellow hoodie) dances in a video to Justin Bieber's YummyYOUTUBE
In the trending video, four dancers in white hoodies, white sneakers and protective masks deliver a series of stunning moves that leave viewers asking for more.
Pacbro explained the creative process behind the video, revealing that it was choreographed, shot and uploaded on the same day – Sunday, March 15.
"Honestly, I expected the video to blow up because we've been building up our audience and it's growing. We choreographed the dance, shot the video, edited and uploaded it on the same day," he stated.
Pacbro noted that the dance was crafted with a message in mind as they wanted to raise awareness about the dreaded virus.
"You can see in the video the guy who takes off his mask and the others move away. Also when the cough sound comes on the track you can see the guy falls and we were basically using art to bring out the importance of taking the precautionary measures," he noted.
Tileh, who runs a dance academy in Lavington, Nairobi, known as Dance 98, revealed that he did not have a dance crew but rather a group of friends and dancers from his academy who have fun under the 'Pacbros' banner.
"I don't actually have a crew, but the guys I dance with are my friends and some from the academy. We call ourselves Pacbros," he noted.
Pacbro has also featured in music videos by popular Kenyan artists such as Bey T and Khaligraph Jones who had the dancers in his video for 'Yes bana'.
Pacbro, who primarily dances to Trap and Gengetone music, revealed that he started taking the craft seriously in 2018 after observing the lack of a Trap dance scene in Nairobi.
"I was always dancing but I loved Trap and wanted to dance Trap but there were no serious Trap dancers in Kenya. So I decided to start myself instead of waiting for someone," he disclosed.
Pacbro cited a blatant disrespect for dancers' work as the main challenge they face along with copyright strikes on their videos.
"I dance to international videos and the celebrities themselves promote us but when we dance to Kenyan songs we are hit with copyright strikes and people trying to shake us down, it can be very frustrating.
"A lot of the people who want dancers' services offer very low pay. Personally I don't accept anything below my rate because people need to start respecting dancers. This is art," he asserted.
Addressing his plans for the future, Tileh promised to continue putting out quality content and taking his work to a new level even as he runs his dance academy.