Museveni's inauguration: Ghana, Burundi, South Sudan leaders arrive on Tuesday
---
Uganda has started confirming the presence of heads-of-state at the inauguration of President Museveni on May 12.
Presidential spokesperson Lindah Nabusayi said the heads of state and delegations arriving on Tuesday include President of Somalia Mohamed Farmajo, President of Guinea, Alpha Condé and Prime Minister of Gabon, Rose Christiane Ossouka Raponda.
Mozambique President Emmerson Mnangagwa, Burundian leader, Évariste Ndayishimiye, Ghana's Nana Akufo-Addo and South Sudan president Gen Salva Kiir have confirmed their presence.
Mnangagwa took part in liberation movements that fought colonialism in Zimbabwe. It was during that time that Mnangagwa got in touch with President Museveni.
Before taking power in 2020, Ndayishimiye had served as a senior military and ruling party official. He worked closely with Museveni during peace talks that ended the civil wars in Burundi.
On the other hand, Salva Kiir has worked with Museveni since the late 1980s in wars against Sudan-Khartoum.
In 2013, Museveni sent UPDF to protect the government of Kiir which had come under attack by rebels loyal to Dr Riek Machar.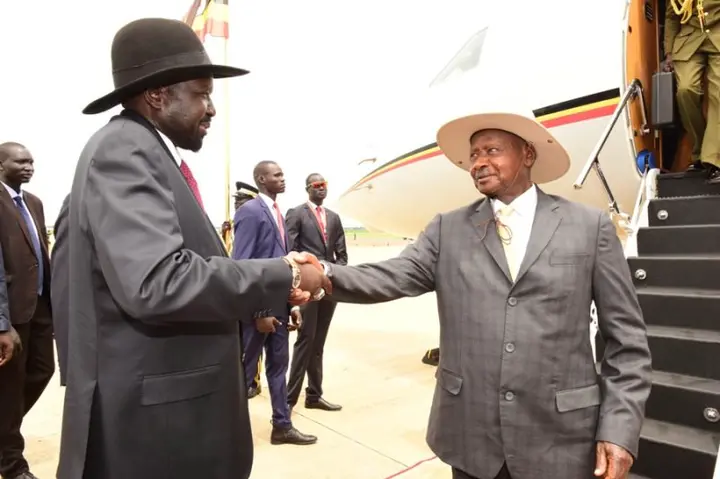 Below is the list of heads of state and delegations arriving on Tuesday:
President of Federal Republic of Somalia
President of Republic of Guinea
Prime Minister of Gabon
AUC Chairperson
Minister of Foreign Affairs of Saharawi Arab Democratic Republic
Minister of Combatants of Mozambique
President of Zimbabwe
President of Burundi
Russian Federation Presidential Representative
EAC SG
President of Ghana
International Conference on Great Lakes Region ES
President of South Sudan
Republic of South Africa Minister of International Relations and Cooperation
IGAD ES
16.Federal Republic of Nigeria Vice President
---
Trending Now