KENYAN 12 APR 2020
Former Tusker Project Fame (TPF) winner and gospel singer Ruth Matete's husband, BelovedJohn Apewajoye, reportedly passed away after succumbing to burn injuries sustained after an accidental gas explosion at their home in Great Wall Gardens, Athi River.
Apewajoye had been in the Intensive Care Unit (ICU) for the last few weeks.
His death was confirmed by Matete on Sunday, April 12 as she stated on Facebook that her husband had gone to be with the Lord, further asking for prayers during the difficult time.
They had gotten married in November 2019 in a private ceremony attended by close family and friends.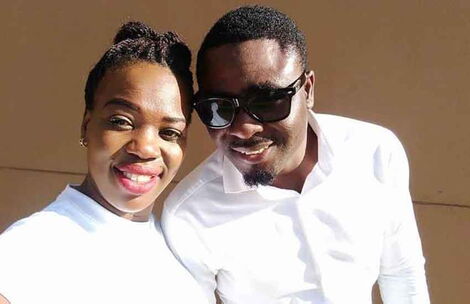 Gospel singer Ruth Matete pictured with her husband BelovedJohn Apewajoye
At the wedding, Matete, an only child raised by a single parent was walked down the aisle by her father Abel Amunga.
Apewajoye and Matete were both ordained pastors at Christ Nation, a church along Thika Road.
Matete famously won the Tusker Project Fame music reality competition in 2012.
Having previously been a worship leader at House of Grace church, Matete later opened up on the internal struggles she faced after winning the competition.
She opened up on the media scrutiny into her life after she gave Ksh500,000 as tithe after winning the competition and, later, when she was allegedly forced by the show's producers to wear a dress shorter than she would have preferred in a performance that was part of her contract.
Matete stated that, at one point, she contemplated taking her own life as she regretted ever taking part in the competition.
"They wrote in newspapers that I am foolish to have given Sh500,000 in church but I believe that tithe is what is keeping me right now
"I tried to commit suicide because I had never been in a place where I was required to handle so much pressure. You switch on the radio and the trending topic is Ruth Matete's dress.When I tried to commit suicide and it didn't work I was like sawa , let's do this your (God's) way," she stated in a 2018 interview with Grace Ekirapa on NTV's Crossover 101.
Matete, however, continues to thrive as a gospel singer with several popular tunes under her belt including Damu Yako and Nakupenda.